Think Tank Encourages Landlords to Let to Tenants with Pets
Published on December 17, 2018 by Sarah Mac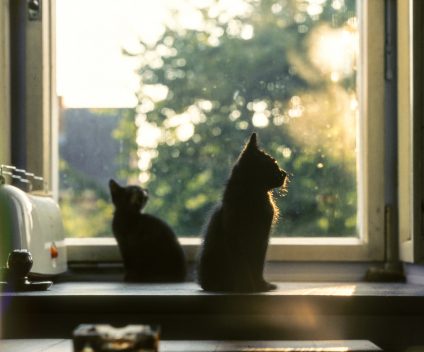 Over 50 per cent of households include a pet, with the majority of people who own them considering their four legged friend part of the family reports SpareRoom, the UK's best known flat sharing organisation.
SpareRoom also reports that it is becoming increasingly challenging for pet owners to find rental accommodation that welcomes furry friends, talking of numerous instances where pets have had to be rehomed just to allow people to find a place to live. In response, SpareRoom has launched a political Think Tank run by pets and their owners to challenge landlords to think differently about letting to renters with pets and to encourage more animal friendly rentals throughout the UK.
78 Per Cent of Tenants Struggle to Secure Pet-Friendly Accommodation
The Think Tank formed by SpareRoom is made up of leading lights in animal circles, including the RSPCA, Crisis and paws.com alongside vets, pet owners and landlords. The group has come together to talk about the various issues surrounding pets and renting from all points of view. Solutions have been proposed that could assist with SpareRoom's goal of eliminating the stigma around letting to tenants with pets. The report makes for an interesting read, highlighting that 78 per cent of tenants have struggled to secure pet-friendly accommodation.
Traditionally landlords have considered letting to pet owners a high risk due to the potential damage to their property. The SpareRoom report reveals that 69 per cent of landlords refuse to allow pets in properties. On the other hand, 21 per cent of tenants admitted that they kept pets despite not being allowed to do so.
So why are landlords so opposed to allowing tenants to keep pets? 57 per cent said the smell of pets put them off; 55 per cent said they worried about damage to their property, and 37 per cent were concerned about the lack of training.
No Complaints About Pets Say Tenants
88 per cent of tenants however reported that they had never received any complaints about their pets and that the pets had never caused any damage to the properties they were renting.
SpareRoom's campaign aims to boost the volume of pet friendly rental property available UK wide, highlighting the many benefits to landlords of allowing tenants to keep pets in their properties.
53 per cent of tenants surveyed by SpareRoom said they paid between £10 and £49 extra per month in rent so that their landlords would allow them to keep pets, and 32 per cent revealed a figure of between £50 and £99 extra.
The Benefits to Landlords of Letting to Tenants with Pets
Aside from the prospect of additional income, landlords may benefit from their tenants enjoying a boost to their mental and physical well-being. Pets are proven to improve mental health in their owners, and dog walking is a known boost to physical health.
Matt Hutchinson is communications director for SpareRoom. He said "With more of us renting our homes it's vital we have a conversation about what that means for quality of life. We know that allowing pets into rented homes can be particularly beneficial – and in more ways than people might think.
"Pets can be a source of higher rental income for landlords, but they can also improve the wellbeing of tenants, reduce the number of pets given up for rehoming or, worse, abandoned, and they can even have an impact on reducing homelessness.
"Ultimately, there's no reason tenants shouldn't be able to live with pets, subject to certain relevant conditions and checks being in place. By finding the obstacles and removing them, as well as seeing the positives, not just the negatives, we should be able to make it much easier for people to have a pet, whether they own their home or not."
The Office of Fair Trading expects landlords to not unreasonably withhold consent for tenants with pets under the Unfair Terms in Consumer Contracts Regulations 1999.
There are various considerations to make if you are a landlord thinking about renting to tenants with pets. Our blog on the subject of tenants and pets should prove useful.