Smoke and Carbon Monoxide Alarm Supply and FREE Premium Testing
Published on December 3, 2015 by Sarah Mac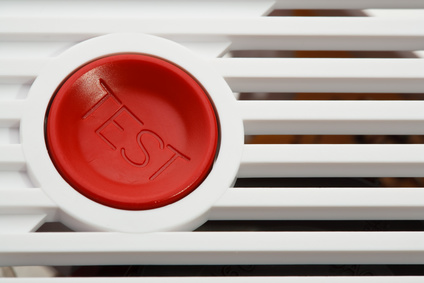 As of 1 October 2015 landlords of residential properties must ensure there is at least one working smoke alarm installed on every storey of their properties used as living accommodation, and a carbon  monoxide detector in any room used as living accommodation that contains a solid fuel burning appliance.
Landlords or their agents are legally required to ensure alarms are in working order at the start of each new tenancy. Failure to install and test alarms will lead to legal action & civil penalties of up to £5,000.
Alarms MUST be in Working Order
The presence of alarms is not enough: landlords are legally obliged to ensure alarms are in working order. This is of course yet another pressure on the already fraught life of a landlord, or their managing agent.
As a landlord or managing agent, you may have been offered basic function testing of smoke and carbon monoxide alarms as part of a check-in and inventory service. This service will not, however, confirm that an alarm will actually work in the presence of smoke or carbon monoxide. It is simply an observation as to whether an alarm goes off when the test button is pressed, which basically just indicates that the battery is operational.
It doesn't prove that, in the case of carbon monoxide detectors, the sensor is working. Sensors only have on average a five-year shelf life and require regular checking to ensure they are in working order. With smoke alarms, debris can accumulate in the vents and this can render them ineffective in detecting smoke. Simply pressing a test button will not indicate whether a smoke alarm will actually provide a warning should smoke be present.
Landlords who wish to ensure their tenants are safe, and who wish to have proof that they have limited their liability and managed risk as far as is practicable, should seriously consider taking steps to properly test the functionality of their alarms.
Premium Smoke Alarm Testing Service FREE with all Check-In & Inventory Reports
At S.R.P we offer a Premium Smoke Alarm Testing Service AS STANDARD as part of our Check-in and Inventory service. This involves alarms being tested using purpose designed products.
Smoke alarms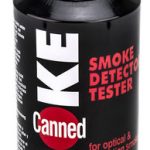 SRP clerks use Canned Smoke by No Climb Products to test smoke alarms. It's an aerosol that simulates smoke and it also checks for debris which can clog vents. It is safe, ozone friendly, non-flammable, non-staining and low residue. We can use it safely and effectively even from a distance, which means even if alarms are located at height, we can usually test them.
Smoke & Carbon Monoxide Alarm Supply Service
To help landlords meet their legal responsibilities and ensure tenant safety, we offer smoke and carbon monoxide alarm supply as part of our Check-in and Inventory service, for an additional, highly competitive charge. Where our trained clerks observe that an alarm or detector is required but not present, they will offer to temporarily fit one as appropriate by contacting the landlord or agent for permission to go ahead.
We temporarily fit smoke alarms to ceilings using strong double sided foam tape. Carbon monoxide detectors are placed next to or on the solid fuel burning appliance. The service is designed to make the property legally compliant at the start of the tenancy, so that landlords have time to come back after the report has been done and permanently fit the alarms as they wish.
Smoke alarms
The Kidde i9060 ionisation smoke alarm with test and hush buttons and low battery warning is British Standards approved and CE marked and comes with a 5 year manufacturer's warranty. A battery will be fitted and permanent fixings and an instruction booklet provided.
Carbon monoxide detectors
The Kidde 5CO Lifesaver carbon monoxide detector has a loud 85db alarm. It offers continuous monitoring, end-of-life and low battery alarms, multi-function LEDs and a 7-year manufacturer's warranty. It is British Standards approved and CE marked. Batteries will be fitted and permanent mounting equipment and an  instruction booklet provided.
For more information, prices for the smoke alarm and carbon monoxide detector supply service and details on how to book, please get in touch. We also have a PDF guide offering further information which we are more than happy to provide to agents wishing to promote the service to their landlords.