New Fire Safety Advice for Landlords & Tenants
Published on September 28, 2019 by Sarah Mac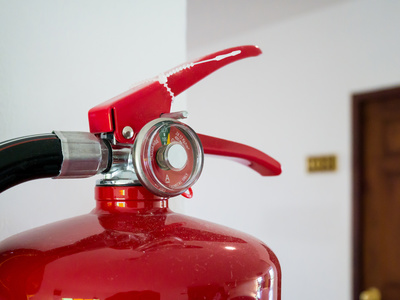 Recent fire safety advice has been made available to landlords and tenants in the form of a new fire safety guide from the Royal Institution of Chartered Surveyors, and on the back of Fire Door Safety Week.
The RICS Fire Safety Guide
The Royal Institution of Chartered Surveyors (RICS) has recently published a fire safety guide highlighting the responsibilities of landlords and tenants when it comes to keeping properties safe, particularly those in high rise blocks.
RICS says that there continues to be a problem concerning fire safety and that there are a considerable number of injuries and deaths every year due to fires in residential properties. The RICS fire safety guide has been produced with landlords, homeowners and residential tenants in mind.
The guide has been compiled by RICS accredited chartered surveyors alongside what is referred to as a 'multi-discipline advisory group' which had experience in the complex area of fire safety design and regulation.
The advice in the guide covers:
Fire detection
How to extinguish fires
Accessibility and special needs assistance
Guidance for landlords of rented or shared accommodation
The safety guide includes specific information for landlords of rented or shared accommodation (HMOs). This covers the obligations of landlords with regard to appliances, furniture and alarm systems and precisely who is responsible for what in each of these situations.
Guidance for tenants
The RICS guide makes it clear on the importance for tenants in acting swiftly and safely should a fire break out in a residential dwelling. The guidance also includes fire safety advice including smoking, the use of e-cigarettes and vaping, candles, furniture and electric circuit overloads. Planning and memorising escape routes is emphasised.
Gary Strong, RICS Director of Practice Standards and Technical Guidance, says of the fire safety guide, "Never has fire safety been in the public domain so much as it is now. With recent fires in residential property, there is an urgent need for the public, landlords and residents to be aware of what can cause fires and the measures they should take to stay safe. RICS is acting in the public interest in publishing this guide, which we hope will be of benefit widely."
Fire Door Safety Week
Fire Door Safety Week ran from 23rd to 29th September 2019. Organised by the British Woodworking Federation, the event has the goal of eliminating bad practice around fire doors and promoting awareness of the importance of quality, efficient fire doors.
The Fire Door Safety Week website presents a raft of useful advice for landlords, including a video explaining the importance of good fire door specification and installation, featuring a real test that reveals what can happen when correct procedure is not followed. There is also a link to a free download of the Fire Door Alliance step-by-step guide to the fire door process, from specification to installation, use and maintenance.
It is essential that tenants are protected and fire doors play a vital role. They are the first line of defence against fire and smoke, helping to contain their spread during evacuation. They must be properly installed and maintained, and proper fire safety procedures must be followed, especially in properties where there are multiple occupants.
Practical tips for landlords on fire door inspections are available on the fire door inspection website.
Check-in, mid-term and check-out inspections by trained inventory clerks will highlight any fire safety issues in your rental property. Why not contact us today to arrange your professional inspection?