Landlords: Is Your Property Fire Safe and Legally Compliant?
Published on November 2, 2015 by Adam Kuklinski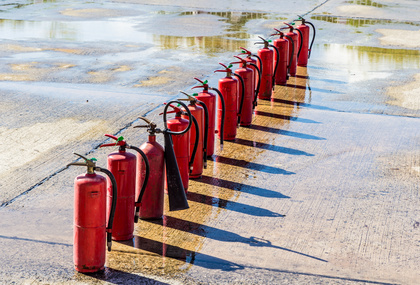 Following on from the new smoke and carbon monoxide alarm regulations introduced on 1 October, this month we thought we'd take a look at the issue of fire risks in rental properties.
There are numerous rules that need to be adhered to as a landlord in connection with fire regulations. Failure to follow the law can result in significant fines that can easily reach tens of thousands of pounds.
As well as the requirement for smoke alarms on every storey of a property that is used as living accommodation, and carbon monoxide detectors in each room that has a solid fuel burning appliance, there are plenty more responsibilities that must be adhered to in order to make sure your tenants are safe from the risk of fire.
Depending on the property type, there are numerous pieces of legislation that may apply:
Building Regulations 2010 Part B
Housing Health & Safety Rating System (HHSRS)
The Housing Act 2004
The Smoke and Carbon Monoxide Alarm (England) Regulations 2015
The Regulatory Reform (Fire Safety) Order 2005
The Management of Houses in Multiple Occupation (England) Regulations 2006
The Licensing and Management of Houses in Multiple Occupation (Additional Provisions) (England) Regulations 2007
The following is a summary of landlord responsibilities concerning fire safety:
Fire Safety: Regular checks of fire alarm systems and fire extinguishers where fitted / provided must be conducted and there must be a clear means of escape. All the safety regulations mentioned above must be adhered to where relevant and any furnishings or furniture provided must be fire safe.
Risk Assessment: If you rent out a hostel, a bedsit or a flat, then you must conduct a written risk assessment so as to comply with the Regulatory Reform (Fire Safety) Order 2005. Shared houses and lets of single dwellings do not fall under these regulations.
Gas Safety: Annual safety checks (CP12) must be conducted and only by a Gas Safety Register engineer. Written confirmation of the checks must be provided to tenants prior to their move-in date or within 28 days of the check, and the checks must be dated within the 12 months previous to the date the tenancy is taken up. Any gas appliances must be installed and maintained by a Gas Safe Engineer.
Electrical Safety: As a landlord you are required to ensure all electrical systems and appliances are safe.
Don't forget, if you fail to comply with the regulations, not only will you face the possibility of fines, you could also find your insurance void too.
There is plenty of information and advice for landlords on safety responsibilities here on the Government portal. You can also read more detail about safety measures in our previous post on meeting safety standards.