Landlord Advice: Four Ways to Winter-Proof Your Property
Published on January 13, 2018 by Sarah Mac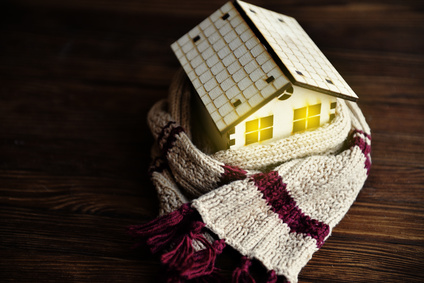 There's no denying that winter is in full swing. And with harsh weather conditions comes an increased risk of damage to property, which is why it is vital as a landlord to take extra steps to safeguard your investment at this time of year.
Here we look at four essential measures to take during the coldest, wettest and windiest months of the year.
1.     Protect Pipes
Water escape is one of the costliest and most devastating risks within any property and, if you need to make an insurance claim, your insurers will be looking for evidence that steps were taken to mitigate your risk of a burst pipe.
The chances of pipes freezing and then bursting in winter are high, that is unless a few straightforward steps are taken to prevent such an occurrence.
Firstly, arrange with your tenants to undertake a pre-cold spell inspection of the pipes. Any issues reported to you such as cracks should be dealt with immediately.
Ensure pipes are lagged so that they are insulated and protected from the cold. This is an incredibly worthwhile investment.
Be sure to advise your tenants to report any strange noises coming from the pipes without delay, and ensure they know how to put the heating on a timer programme so that the pipes are heated up regularly throughout the day, particularly when they are out or away. Also be sure to advise your tenants as to the location of the stopcock so that they can turn off the water supply in the event of a leak to prevent further damage.
2.     Inspect Drains
The last thing you want during the winter is a blocked drain. Serious water damage could result leading to substantial insurance claims during which you will suffer loss of rental income whilst the issues are resolved.
So, undertake a thorough check of your property. Start with the guttering and overflow pipes. Look for cracks and blockages. Autumn leaves will usually collect and cause blockages if there are trees in the vicinity.
It is not difficult to clear gutters and it is even easier to prevent blockages in the first place. Drain guards are a valuable investment and relatively cheap too: far cheaper than dealing with water damage.
Ask your tenants to report any signs of blocked drains to you immediately and to keep an eye on drain covers to ensure they remain in place and free from damage. Also make tenants aware of the fact that damp patches inside the property could mean a blockage outside.
3.     Check the Roof
Issues with the roof are certainly not something you can generally expect your tenants to notice, until that is the problems become significant and water starts to leak into the property. A leaking roof could lead to serious property damage.
Make it a part of your regular maintenance plan to inspect the roof. Look for missing tiles or any that are cracked or loose. This you can do yourself from ground level. Tell-tale signs could be fragments of roof tile in gutters or on the floor around the property. You can also make your tenants aware of what to look out for so that they know to report anything that looks amiss.
If you suspect anything, call in the professionals: never attempt to inspect a roof at height by yourself. Repairing a roof is a specialist job and should be left to the professionals who are insured and qualified to undertake such tasks.
4.     Assess Trees
If there are trees in close proximity to your property, you will need to take special care over them during periods of storms and high winds.
Trees, especially evergreen varieties and those with large, bushy canopies, can hide a multitude of issues. Dead wood is a natural element of the tree's lifecycle and it can fall without notice at any given moment, especially when prompted by wind and heavy rainfall. Diseased or decayed branches may do the same thing.
It is best practice to have any trees on your land regularly surveyed by a qualified tree surgeon. Your insurers are likely to demand to see evidence of such should you make a claim for damage to yours or a neighbour's property related to a fallen tree or branches.
If you are concerned about a tree that is not on your land but is encroaching upon your property, you will need to write to the owner, whether that is a neighbour or the local council, and ask them to deal with it. Never attempt to undertake tree work of any kind on trees that are not your own, and always check first in case there is a Tree Preservation Order in place, in which case you will need to seek permission from the local authority to deal with it.
Ask your tenants to look out for any signs of tree damage or disease and to report it straight away to you so that you can deal with it before it becomes more of an issue.
Always Keep Track with a Mid-Term Inspection
The above steps should help you avoid any major issues this winter. In addition, always remember to carry out regular routine inspections of your property throughout the tenancy.
These inspections will allow you to spot any developing or potential issues early so that you can deal with them before they have the chance to intensify and turn into significantly costly problems. It will also give you the opportunity to discuss any concerns your tenants may have face to face.