Fire or Flood: Landlord Obligations to Tenants
Published on July 11, 2018 by Sarah Mac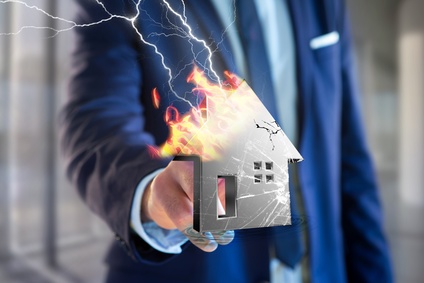 Thankfully it's a rare occurrence, although it does happen. When fire or flood renders a property uninhabitable, there is a lot to deal with, in challenging circumstances. It is especially important therefore for landlords to appreciate their obligations to tenants in situations like these. Let's take a look at what landlords are expected to do when a rental property is devastated by fire or flood.
Re-housing tenants – landlord obligation?
In general, following a fire or a flood, it is not down to the landlord to rehouse a tenant if the property is rendered uninhabitable. Instead, it is down to the local authority, because the tenant would be considered unintentionally homeless and a priority for allocation of accommodation.
In terms of who is responsible for the costs of re-housing a tenant, this will be dependent upon whether the landlord had neglected to fulfil certain obligations in respect of repairs and maintenance which led directly to the fire or flood. For example, if the fire was a result of faulty wiring connected to lack of maintenance, or the tenant advised the landlord of a defect with the water system but no action was taken and then a pipe burst, then the burden of covering the costs will fall to the landlord.
Is rent still payable?
Whether rent still remains payable following a fire or flood depends upon the terms set out in the assured shorthold tenancy agreement.
A lot of tenancy agreements include clauses providing that the landlord must return any rent already paid for periods when the property is uninhabitable by fire or flood. If there is no such clause then in theory, the tenant will remain liable for the rent, although in practice the landlord is going to find this fairly challenging to enforce.
Will insurance cover it?
Landlords' insurance will usually cover both rent lost and the costs of providing alternative accommodation. However, if the tenant wishes to claim on the landlord's insurance to cover the cost of their alternative accommodation, then they will need to continue paying the rent for the damaged property, otherwise they would in essence be living rent free. For this reason, where an insurer covers the cost of alternative accommodation, it will not usually also cover the landlord's loss of rent.
The tenant wishes to terminate the tenancy. Is this allowable?
Some tenancy agreements allow the short notice termination of a tenancy following an event rendering a property uninhabitable. Furthermore, tenants may be within their rights to surrender the tenancy and landlords are able to accept this surrender in such circumstances. A deed of surrender would be required for written agreement and this would be the most straightforward method of bringing the tenancy to an end without either party having to give notice. Another option is for the landlord to serve a Section 21 notice.
In summary
As a landlord, you should ensure tenants have adequate insurance in place to cover situations such as fire or flood, and that you are fully aware of the terms of the cover. You should also be in no doubt as to the provisions in your tenancy agreement in such situations.
Be sure to install smoke alarms and carbon monoxide detectors as required by law under the Smoke and Carbon Monoxide Alarm (England) Regulations 2015 and always follow your obligations concerning electrical and gas safety and maintain paperwork so that you can demonstrate your compliance in the event of an investigation.