Electric Vehicle Chargepoint Grants Announced for Landlords
Published on April 30, 2022 by Sarah Mac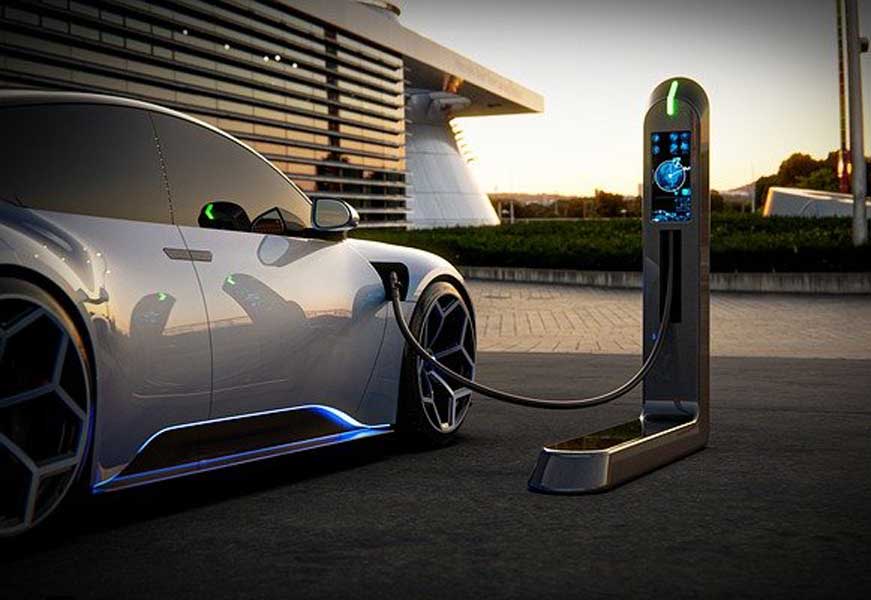 A new Government fund has been announced, allowing residential and commercial landlords to claim up to £350 towards the purchase and installation of electric vehicle charging points. Read on to find out how to access electric vehicle chargepoint grants, and how to check eligibility.
The EV chargepoint grant for landlords provides financial support for landlords and others to buy and install electrical vehicle chargepoints at residential or commercial properties across the UK.
How does the electric vehicle charging point grant work?
The grant provides funding towards the cost of buying and installing EV chargepoints. The chargepoints can be capable of charging one or more vehicles at the same time, depending on how many sockets they have.
The grant is given per chargepoint socket installation. It can be used to fund up to 75 per cent of the cost of the purchase and installation, with a cap of £350 per grant.
Landlords are able to receive up to 200 grants per financial year for residential properties, and a further 100 for commercial properties. Either can be split over multiple properties, or used for a single property.
The financial year runs from 6 April to 5 April the following year. Applications that span multiple financial years will be accounted for on the year they were first applied for.
It is only possible to apply for a single building or estate per application.
Should a parking space be shared between properties and not allocated, it should be treated as an estate, with one application made for that estate.
For multi-unit properties, the address of the overall property will have to be provided.
Applications for residential and commercial properties must be made separately. Where a property is mixed use, separate applications will need to be made for any EV chargepoints installed for residential use, or for staff or fleet use.
Applicants are allowed to make more than one claim for the same property, providing they do not exceed the allowance of 200 grants for residential properties, and 100 grants for commercial properties.
How to access the electric vehicle chargepoint grant?
To access the grant, a landlord needs to register with the Office for Zero Emission Vehicles (OZEV). Once that's done, their chosen installer, who must be approved by OZEV, can then claim for the work completed on their behalf.
Currently, the scheme is being operated manually whilst a digital service is set up. This should be available by summer 2022.
Landlords must therefore complete the EV chargepoint grant for landlords registration form and send it by email to LandlordAccounts@dvla.gov.uk. Once the details are verified, the DVLA will provide landlords with their own unique registration number for the scheme.
Who is eligible for the EV chargepoint grant?
The following may apply for the EV chargepoint grant:
Residential and commercial landlords
Right to manage (RTM) companies
Companies which own the freehold of a leased or rented property
Companies which own the common areas of a building (this can include companies with shareholders who are leaseholders, and companies that manage the building)
Entities listed on the Scottish Property Factor Register
Private registered providers (PRPs) of social housing
Public authorities, e.g. government departments and agencies, the armed forces, local governments, the NHS and emergency services
Charities
You will need to be either registered at Companies House, or VAT registered with HMRC. If you are not registered with either, you will not be eligible for the grant. The government will however be providing assistance for PRPs, charities and property factors that do not have a Companies House or VAT registration at some point in the future.
The property must be located in England, Wales, Scotland or Northern Ireland. Properties in the Channel Islands or Isle of Man are not eligible.
Properties can be single-unit residential, multi-unit residential, or commercial properties with dedicated parking for staff or fleet use. Landlords applying for grants for single-unit residential properties must not live at the address. Chargepoints at commercial properties must be solely for staff or fleet use; they cannot be for public use.
Holiday rentals are not covered by the EV chargepoint grant.
The parking space where the electric vehicle charging point is installed must be your property. In other words, it cannot be rented. It must be suitable for a chargepoint, accessible at all times, and safe for the vehicle. OZEV approved installers will determine these criteria.
All chargepoints must be on the Electric Vehicle Homecharge Scheme (for residential buildings) or Workplace Charging Scheme (for commercial) approved chargepoint model list at the time of installation. Claims will be rejected if the chargepoint model claimed is not on the list.
Important considerations before going ahead with an EV chargepoint grant application
Before you start the grant application process, you should:
Make sure you're aware of the grant rules and restrictions
Take advice from an OZEV approved installer
Ensure your chosen chargepoint is listed on the OZEV approved list
Check whether your property's electrical system is sufficient to cope with the chargepoint installation, and arrange any necessary upgrades if it isn't
Consider how you will manage, maintain and service the EV chargepoints
Ensure you will be able to cover the additional electricity costs
Check that accessibility needs will be dealt with, especially for electric vehicle owners with disabilities or mobility issues
Where can I find more information?
There is detailed information on the government website under EV chargepoint grants for landlords, including details of further available electric vehicle related grants.