Letting Property to Disabled Tenants: Helpful Advice
Published on August 2, 2016 by Sarah Mac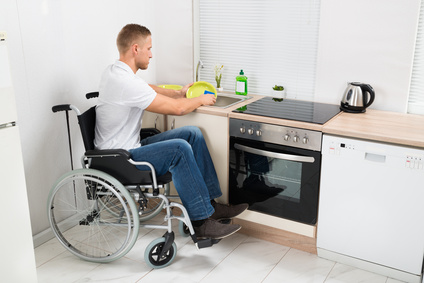 If you are a landlord in England, Wales or Scotland, you have to comply with the Equality Act 2010. This means you have a duty to make reasonable adjustments to rented property and rental agreements for a tenant who is or becomes disabled. Similar requirements apply in Northern Ireland, although the legislation that applies has a different name, namely the Disability Discrimination Act.
It can be quite a blow if one of your tenants becomes disabled, not only for the unfortunate person concerned. You will be required to make reasonable changes in their accommodation to make it appropriate for them to continue to live there.
What Changes Might Be Needed?
Different types of disabilities need different reasonable adjustments. Do you need to adapt the toilet and washing facilities? Are all the door handles, the light switches and other controls at the right height? If you let furnished, do they have the right furniture? Do they need wider doorways, and is there easy access to the property, or do you need to install a ramp or make other changes? Will they be able to hear the doorbell when people come to call or do they need it linked to a visual signal?
You need to take a look at your tenancy agreement, and to adapt it if their sight, hearing or understanding is impaired, so that they can read or hear it. If the property is let pet-free, the tenant still might need an assistance dog and that must be allowed for.
If they ask to make changes themselves, you have to consent unless you can prove you have good reasons for not doing so. You should have a written agreement about it that states whether or not they will put things back as they were before they move out. If the changes have a negative effect on the value of the property, you would be wise to insist on this.
What Are the Cost Implications?
Making the necessary adjustments can be costly. A full conversion for a person with mobility problems that mean they have to use a wheelchair could cost around £20,000, according to a recent Leonard Cheshire Disability Report 'The Long Wait for a Home'.
However, you or the tenant can apply for a Disabled Facilities Grant from your local authority. As long as the council is happy that the work is appropriate and reasonable, you should get one, but you have to wait for their decision before any work starts, otherwise the offer can be rescinded.
The Market for Disabled Rentals
The council should look favourably on private landlords willing to adapt properties for the disabled, since the Leonard Cheshire report mentioned above states that most of them are failing to provide adequate and appropriate social housing for the disabled. Many people in this category are therefore still seeking homes that would allow them a greater measure of comfort and independence.
If you do provide such properties, you would also have the benefit of tenants who would be likely to be long term, because of the difficulty of finding other suitable accommodation.